Professors Matos, Zamora and Barragan were selected to hold a Early Career Faculty Fellowship by the the Rutgers institute for the Study of Global Racial Justice.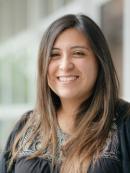 Yesenia Barragan
Assistant Professor of History, Rutgers–New Brunswick
Yesenia Barragan is a historian whose research examines the transnational history of race, slavery, and emancipation in Afro-Latin America and the African diaspora in the Americas. She earned her Ph.D. in history from Columbia University. She is a co-leader of the Slavery + Freedom Studies Working Group, an Interdisciplinary Seminar in Social Justice (ISSJ) at the institute.
Omaris Zamora
Assistant Professor of Latino and Caribbean Studies and Africana Studies, Rutgers–New Brunswick
Omaris Zamora studies transnational Black Dominican women's narratives. She earned her Ph.D. in Iberian and Latin American literatures and cultures at the University of Texas, Austin.